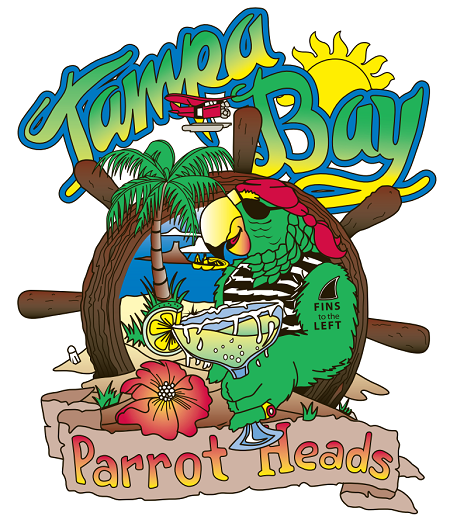 The Tampa Bay Parrot Heads Club supports so many great causes by hosting events that raise money and awareness for each of these causes. One thing that can be said for our club, we party with a purpose, and we generous support these matters.
---
Music on the Bay (MOTB)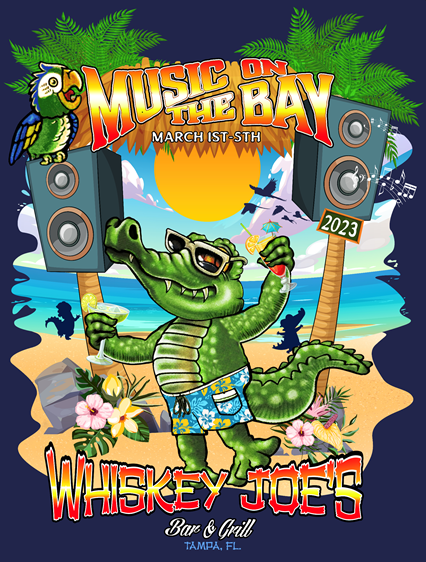 This is Tampa Bay Parrot Head (TBPH) Club's premier annual event. 4 1/2 days of live Trop-Rock music.
Best Trop-Rock Artists
Tampa Bay Parrot Head Club assembles some of the best Trop-Rock musicians on the planet to be a part of this amazing and PHenomenal event! Yeah, we have PHun with it.
These amazing artists perform on two outdoor beach stages at Whiskey Joe's Barefoot Beach Bar, located right on the waters of the beautiful Tampa Bay.
The proceeds from this huge event are donated to the Shriners Children's-Florida.
MOTB has been awarded by the Trop Rock Music Association as the best
EVENT OF THE YEAR in the category of "Event of the Year – Large" 2013 – 2020, 2022.
TBPH Club Donations:
In the past ten years MOTB has generated over $457,000, donated to the Shriners Children's – Florida.
---
MOTB is held at Whiskey Joe's Barefoot Beach Bar – 7720 W Courtney Campbell Causeway, Tampa, Florida 33607
---
Meeting of the Minds (MOTM)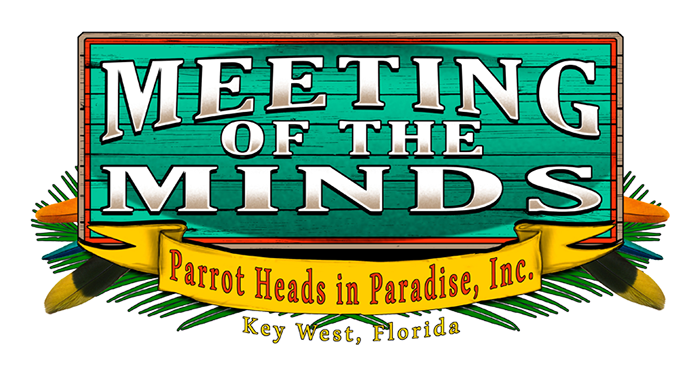 The Meeting of the Minds (MOTM), also called Parrot Heads Week, is a classic Key West event.
The Parrot Heads celebrate the music of Jimmy Buffett, our beloved island-singer and songwriter. Jimmy created the idea of Margaritaville.
Every fall, Parrot Heads from all over the world go to Key West for a week of dancing, fun-loving parties, and island pirate celebrations.
Meeting of the Minds in Key West, Florida, which attracts approximately 3,500 Parrot Heads each year. The multi-day event, sponsored by the Parrot Heads in Paradise includes live music, but also a Toy Drive for the Monroe County Salvation Army, a blood drive, Zonta Walk for Breast Cancer, raffles and other events to raise money for charities.
---
TBPH Birthday Party
Annually, the Tampa Bay Parrot Head Club celebrates the birthday of the club.
This is held at a local hotel, so one can party, celebrate and not have to be concerned about driving home.
This event includes live music, a banquet style dinner, and of course plenty of music and dancing.
Usually during the day, we hang out at the pool. The club has games and funny contests, all in the spirit of island-time fun!
This is a great event; one you don't want to miss.
---
Beach Clean-Ups
Our club is environmentally focused. Meaning we love and appreciate our Florida ecosystems, especially our beautiful beaches.
Unfortunately, there are folks who don't behave properly when visiting our beaches, they leave their trash and rubbish.
Periodically, the Tampa Bay Parrot Head Club members gather together, we spend a few hours cleaning our beaches.
Afterwards, we gather at a local tiki bar/restaurant and celebrate our accomplishment. Another time that we simply have fun together.
---
Bar Stroll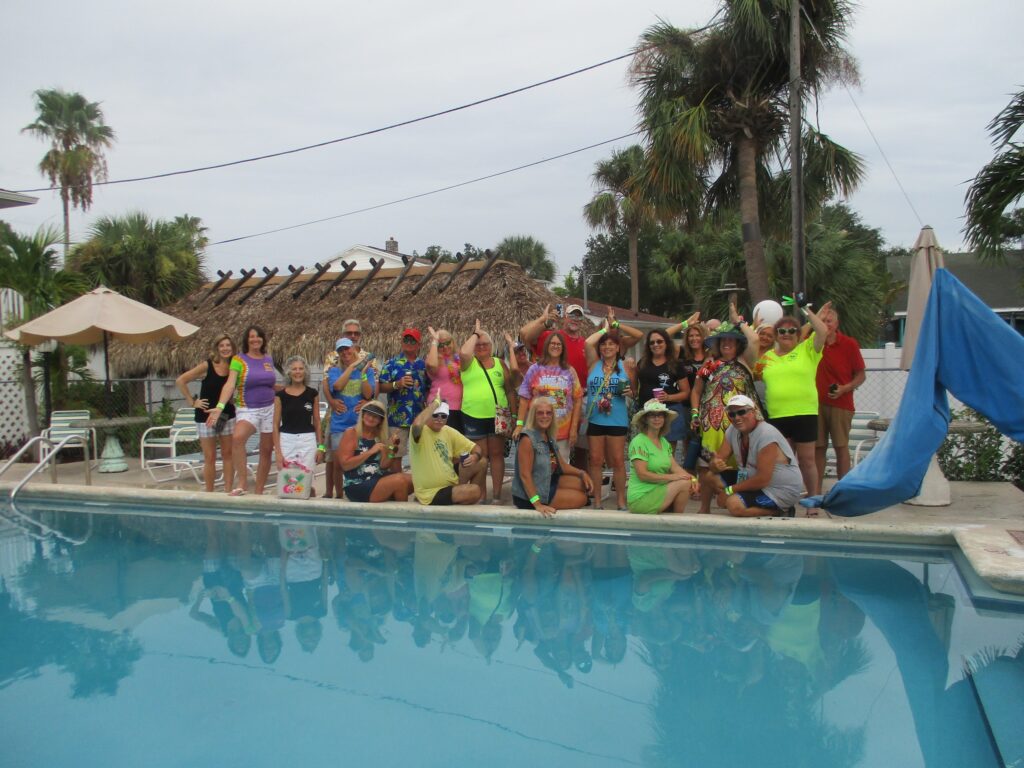 Mixology/Progressive Bar Stroll Contest – Friday – $10 for each room entry and $10 per person that wants to partake of the progressive bar stroll and vote on the best mixologist.

There will be a table set-up poolside 10pm with cups to place you tickets and to vote for your favorite drink. Winner wins 50% of money collected for mixology contest or can donate it back to USF Endowment for Marine Sciences.

Poker Run – Saturday night – $10 per person (50% of money collected for Poker Run to winner or can donate it back to USF Endowment for Marine Sciences.

---
Knight Parade
The Krewe of Sant' Yago has hosted the Sant' Yago Illuminated Knight Parade every year since 1974.
The parade is a celebration of Tampa's long Latin heritage and civic pride, brightening the streets of Ybor City's Seventh Avenue for a special night of floats, costumes, beads, and merriment.
Knight Parade, Saturday, 2/13/23, Elmer's Sports Pub, Ybor City
Gather at 4:30 to enjoy Paula's famous Margarita's (if you've had one, you know what I'm talkin' about), great food and meet up with TBPH.
We have our own area right in front of Elmer's at the corner of 7th Ave and 19th Street. Bring your chair.

Parade starts at 7pm. We'll put our chairs out around 6pm.
---
5th Wednesday of the Month Meeting
The club typically meets every 1st and 3rd Wednesday of the month at Whiskey Joe's.
On a month where there is a 5th Wednesday, the club usually meets at different locations and the meeting is a little more casual.
Please consult our calendar for the details for any 5th Wednesday Club Meeting.
This is where one will find details of the location of the meeting.
Hope to see you there!
---
TBPH Holiday Party
Each year the TBPH Club holds a Holiday Party. It is usually held on Treasure Island, at the Treasure Island Community Center.
Members bring a covered dish and/or dessert to share and the Club provides the main dishes.
There is live music and dancing throughout the night and of course we have a few Parrot Head contests for fun.
This is a night of PHun but also an opportunity to give back to our community.
This is the time of year that TBPH recognizes all our volunteers, Volunteer of the year and Fruitcake Board of Directors.

This is a night of fun but also an opportunity to give back to our community. This is our fundraiser to give for the Holidays to Metropolitan Ministries, Toys for Tots and Animal Shelter.

Please collect unwrapped toys, canned or boxed food or unwrapped pet toys and food and bring them. You don't have to give to each one and I'm sure that something will "leap" into your cart this week!
Santa has been known to make an appearance. It's all good fun.
Some Members choose to spend the night at one of the nearby hotels, so they make it a little weekend get-away.
Sooooooooooooooooooo -pull out your best Holiday Parrot Head dress…and come on down!
Treasure island Community Center is located at 1 Park Pl, Treasure Island, FL 33706.
---
Join The Club
---